Getting a great sounding acoustic guitar is always a wonderful feeling. Knowing that you've got a trusted partner helping create your distinctive sound is very important to most acoustic players. But how do you make sure it still sounds great onstage or in a room too large for natural amplification? Two things: a high quality pickup system and the right amplifier for your needs.
There are many choices these days when it comes to selecting a pickup system. Some guitars already have one built-in, for instance many of our entry-level Norman and Breedlove models have a Fishman Presys system factory installed. This is a basic under-saddle design that captures the vibrations from the guitar's top via piezoelectric transducers placed beneath the saddle. In this inexpensive option, the volume and tone controls are conveniently positioned on the guitars top shoulder for easy access. It features a built-in tuner as well which is quite handy. The sound quality produced by this system is very strong, consistent and reliable across the strings with plenty of warmth as well as brightness balanced in the tone. The limitation of this design is that it lacks the natural woody, airiness that many people love about acoustic instruments. It also doesn't do any favours for those who employ lots of percussive techniques and artificial harmonics in their playing as these sounds are not easily captured by this kind of pickup.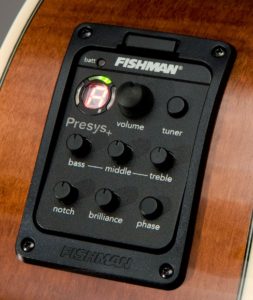 A similar option to the Fishman Presys is the L.R. Baggs Element. This is another under-saddle design that offers fantastic tonal quality with outstanding dynamic sensitivity to the player's attack. The volume and tone controls can be discreetly positioned inside the sound hole, the battery pack sits inside the body, and the input jack is installed through the end pin where one would normally find the strap peg. The end result is that the guitar appears essentially untouched and none of the electronic components are visible from the outside. I've personally used the L.R. Baggs Element in one of my guitars for many years and I've always been very happy with it. Mi-Si also offers the same pickup with battery-free technology for their Acoustic Trio system in which the pickup can be fully recharged in a minute for up to 16 hours playing time. Amazing!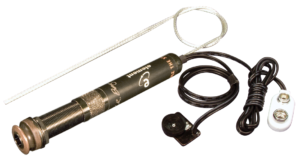 The ultimate pickup solution we currently offer at Brickhouse is the K&K Trinity Pro Mini. This is a dual-source system meaning that in addition to the under-saddle pickup, there is a small condenser microphone positioned a few inches behind the strings inside the sound hole. This allows the player to blend between the two sources to create a more natural acoustic sound as the microphone picks up the harmonics, overtones and percussive influences. The pickup includes a small preamp that functions externally from the guitar through a stereo cable, whereby the two pickup sources can be blended and additional EQ can be balanced. This is a truly remarkable design that many of the top acoustic guitarists in the world are currently using in their live format.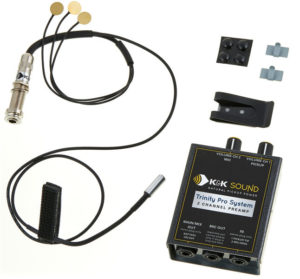 When it comes to amplification, there are a few things to consider. What kind of setting is the amp being used for? How much volume is required? How portable does it need to be? How many channels are necessary? Are built-in effects important? The answers to these questions will make it much easier to decide what kind of amplifier is right for you.
The Roland Acoustic Chorus is a very dependable series of stereo amplifiers built for acoustic guitars that comes in a range of sizes and wattage capabilities. Starting with the AC-33, we discover a highly capable amp that offers the most portable option available at our store. This 30-watt amp can be battery powered (8 AA batteries) in addition to running on AC power, which makes it great for street performance, impromptu live settings, or just bringing along on weekend camping trips. It features guitar and mic/line channels, custom-tailored effects, anti feedback, and a 40-second phrase looper. This is definitely a fantastic choice if you're looking for something economical to take your sound with you wherever you go but not necessarily needing tons of volume. If this sounds great, but you would like to have a bit more volume, you might like to check out the Roland Cube Street EX which we also have available.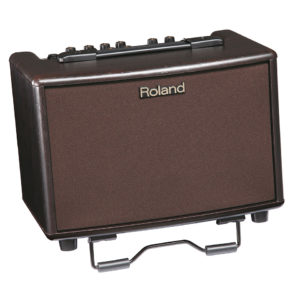 The Roland AC series continues with the AC-40, AC-60 and AC-90 which all offer similar features but with increasing wattage levels. All models employ a stereo 2-way speaker system that delivers transparent highs while also providing incredibly powerful low-frequency performance. The 90-watt model is essentially a PA system that would be suitable for smaller live settings playing to audiences between 50 and 100 people. With built-in effects like Roland's famous stereo multi-band chorus, plus reverb/delay, along with the dual channel inputs for guitar and XLR, these are all highly capable amplifiers that are designed for use with acoustic guitars. They're also light-weight and very portable.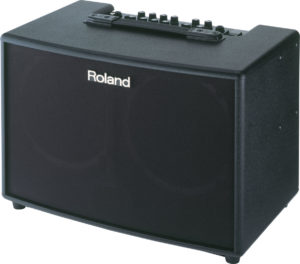 The newest members of our amplifier family are the Acoustic Solutions ASG-75TW and ASG-150 by Godin Guitars. These are both exceptional amplifiers that produce incredible clarity, warmth and richness in tonal quality. They are true to your guitar's natural sound. The 75-watt model features 2 channels for guitar, XLR input and line out with phantom power, 3 band EQ and internal digital reverb. The 150-watt version includes 3 1/4″ inputs, 2 balanced XLR inputs with phantom power, line out, direct out, 3 band EQ across all channels and internal effects. It packs plenty of volume and could support the use of multiple musicians at once. These are both arguably the best acoustic amps money can buy for small to medium sized venues.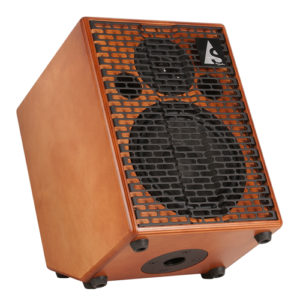 Whether you need a guitar with a built in pickup, or would like to have your favourite guitar installed with a quality pickup system, or if you're looking for the latest in acoustic amps — we've got you covered. Check out our range of products here on the site or come stop by and we can show you everything that we offer!